Follow What Excites You.
City Style, Country Capable.
Advanced Safety Package: Subaru Rear Vehicle Detection (SRVD)*
Subaru Rear Vehicle Detection (SRVD) uses sensors placed around the vehicle to alert you of vehicles in your rear blind spots for safer lane changes, and can also warn you of potential collision danger, whilst driving in reverse into a street with cross traffic.
Advanced Safety Package: High Beam Assist (HBA)*
High Beam Assist increases visibility and safety when driving at night by toggling the Outback's high beams on and off automatically, depending on driving conditions.
Increased Visibility
We adjusted the frame to increase your visibility and decrease your blind spot area. We also installed front quarter windows with door-mounted side mirrors to reduce the front blind spot for increased forward visibility.
Active Torque Vectoring
When cornering, Active Torque Vectoring applies the brakes and distributes less torque to the inside wheels and more torque to the outside wheels. It helps make sharp turns and handling more precise. In combination with the Vehicle Dynamics Control System, it helps to keep you out of harm's way, granting you a comforting sense of security.
The Conditions.
          * The driver is always responsible for safe and attentive driving and observance of traffic regulations. Please do not depend solely on the Advanced Safety Package features for safe driving. There are limitations to the recognition features of this system. See Owner's Manual for complete details on system operation and limitations. Please ask your retailer for more details.
Subaru Global Platform
The SGP's advancements throughout the chassis—higher rigidity, higher strength, lighter weight, better rolling resistance and responsive steering—particularly benefit these safety systems.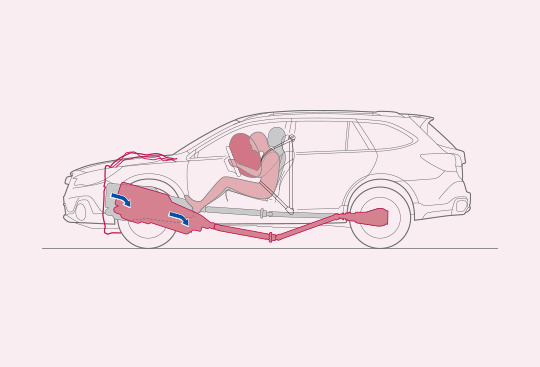 Hazard Avoidance
Made possible by the SGP, the lower centre of gravity design, enhanced suspension system, and rigidity improvements provide a vehicle that responds immediately when evasive actions are taken, helping avoid hazards on the road.
Cabin-protecting Layout
Every Subaru goes above and beyond common practice when it comes to your safety. In the event of a head-on collision, your Outback's SUBARU BOXER engine and gearbox are designed to avoid moving into the cabin for your protection.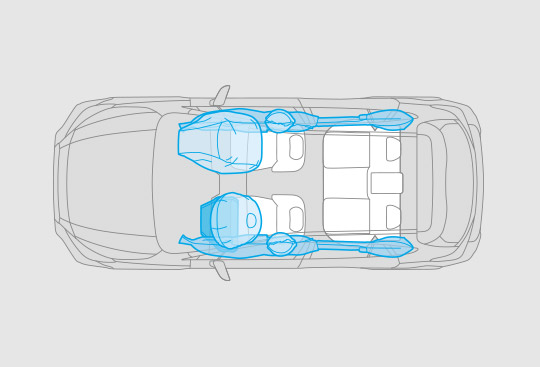 Ring-shaped Reinforcement Frame
The Ring-shaped Reinforcement Frame strengthens the passenger cabin from the roof to the doors, pillars and floor. This design helps to divert and dissipate impact energy away from the occupants in a collision. It also contributes to strengthening and lightening the chassis, leading to greater, reinforced protection.
Supplemental Restraint System (SRS)* Airbags
Front SRS* airbags, front side SRS* airbags, curtain SRS* airbags, and knee SRS* airbags come standard on the Outback to give all passengers a higher level of protection in the event of a collision.
Locking-tongue Seatbelts
During an impact, the locking tongue limits movement in the lap belt and reduces impact in the lower chest area to improve safety and reduce injury levels.
Whiplash-mitigating Front Seats
Designed to enhance comfort and help the driver feel more planted for more control, these seats can also help reduce the possibility of whiplash resulting from certain types of collisions.
The Conditions
       *SRS: Supplemental Restraint System. Effective when used in conjunction with seatbelts.
EYESIGHT
SUBARU's World-leading Driver Assist Technology
At Subaru, we believe in ALL-AROUND SAFETY, and an important part of that is pre-collision safety, making sincere efforts to ensure an accident never happens. That's why we created EyeSight*1 , Subaru's cutting-edge driving support system. Like a second pair of eyes for the road ahead, EyeSight uses two stereo cameras to capture three-dimensional colour images with excellent image recognition, nearly as capable as the human
eye. Using images from both cameras to precisely determine the shape, speed and distance, it not only detects vehicles but also motorbikes, bicycles, and pedestrians.*2 When spotting potential danger, it warns the driver and even applies the brakes if necessary to help avoid an accident. With improved safety performance like this, EyeSight reduces the burden on the driver and enhances your sense of security in the Outback.
Adaptive Cruise Control
EyeSight*1 doesn't only maintain the speed the driver sets as traditional cruise control does. When it senses a vehicle in front, Adaptive Cruise Control adjusts the speed to keep a set distance from the lead vehicle by monitoring the distance and the difference of the speed. It adjusts the engine, transmission, and brake to keep your speed in line with the traffic flow in a wide range approximately from 0 km/h to 180 km/h. Designed for use on freeways, highways, and similar roads, Adaptive Cruise Control actually detects a lead vehicle and its brake lamps and can help keep pace in stop-and-go highway traffic for you—a comfort and convenience on long drives.
Lane Sway and Departure Warning
When you are distracted by fatigue and are wandering or drifting in a lane, Lane Sway Warning helps you stay alert with a buzzer and a flashing indicator. However, Lane Sway Warning only activates at speeds of approximately 60 km/h or more. When travelling at speeds of approximately 50 km/h or more and you accidentally drift to the edge of your lane and begin to depart your lane without signaling, Lane Departure Warning warns you with a buzzer and a flashing indicator before you leave your lane.
Lead Vehicle Start Alert
When you're at a stop and EyeSight senses that traffic has started moving again, Lead Vehicle Start Alert prompts the driver to take action with a buzzer and a flashing indicator.
Lane Keep Assist
While driving on freeways, highways, and similar roads, Lane Keep Assist can monitor lane markings with a stereo camera and detects when the vehicle begins to move out of its lane. At speeds of approximately 60 km/h or more, it can assist with steering wheel operation to help prevent lane departure to support safe driving.
Pre-Collision Braking System*2
When it senses an impending collision with a vehicle or other obstacle in front, the Pre-Collision Braking System can warn the driver with a buzzer and a light on your dash. If the driver still does not take evasive action to avoid the collision, the system can automatically apply the brakes to reduce any impact or, if possible, prevent the collision. If the driver takes evasive action to avoid a collision, Pre-Collision Brake Assist can act to aid the driver in preventing the collision. Also, Pre-Collision Steering Assist helps drivers make a sharp turn to avoid a collision when it spots a potential frontal impact.
Pre-Collision Throttle Management
When EyeSight sees an obstacle in front of you and you put the vehicle in Drive instead of Reverse, Pre-Collision Throttle Management sounds several short beeps, turns on a flashing indicator and cuts the engine output to help you avoid a frontal collision.
The Conditions
*1 EyeSight is a driving support system which may not operate optimally under all driving conditions. The driver is always responsible for safe and attentive driving and observance of traffic regulations. System effectiveness depends on many factors such as vehicle maintenance, weather and road conditions. See Owner's Manual for complete details on system operation and limitations for EyeSight including functions in this brochure.
*2 Pre-Collision Braking System may not work in all situations. Depending on the speed difference from objects, the object's height and other conditions, every situation may not meet the necessary conditions for EyeSight to work optimally.
Field of vision range from EyeSight (Not an actual measurement).