Exhilarating Power and Control.
And Looks to Match
   WRX
Petrol engine, Turbocharged, 6MT or Sport Lineartronic
Max. speed (km/h)                                                     215 , 240
Acceleration 0-100 km/h (sec.)                                6.0 ,  6.3
Fuel consumption, combined (lit./100 km)          9.2 ,  8.6
CO2 emissions, combined (g/km)                          213 , 199
Engine type           Petrol, Turbocharged, DOHC    16-valve
*1 6MT
*2 Sport Lineartronic
*3 Fuel consumption and CO2 emissions: According to ECE R101-01.
18-inch Aluminium-alloy Wheels (Dark Gun Metallic)
The race-inspired, sporty and powerful design of the 18-inch aluminium-alloy wheels inspires power and performance, making driving more enjoyable.
LED Steering Responsive Headlights (SRH)
Powered by LEDs, these bifunctional headlamps combine low and high beams and are steering-responsive, providing good visibility around turns at night.
LED Fog Lamps
The stylishly redesigned LED fog lamps and bezels add to the wide and low stance of the WRX's more aggressive front face styling, emphasising its performance potential.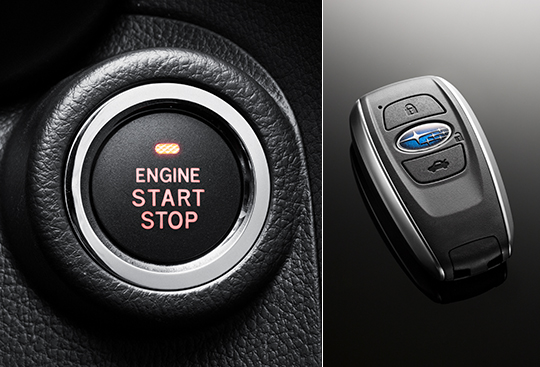 Keyless Access with Push-button Start
Your key fob gives you easy keyless access. Simply grip the door handles to unlock them, and start the engine with a button. Even without your fob, a 5-digit PIN code can unlock the doors.
Rear Diffuser and Twin Dual Tail Muffler
These enlarged tail mufflers hint at the sporty performance within.
Roof Carrier Brackets
Maximise your active lifestyle with the roof carrier brackets, which make attaching and removing a roof carrier much more convenient.
Electronic Parking Brake (EPB)
Easily activated or released with a flick of a switch, the caliper-integrated EPB clasps the brake pads with motor power. When stopped on a hill, EPB is automatically activated. When you step on the gas, EPB is automatically deactivated while Hill Holder prevents rollback.
Leather Seats with Lumbar Support
Find your ideal driving position with these sporty black seats. The power lumbar support helps reduce fatigue on those long drives.
Paddle Shifters
Paddle shifters are mounted on the steering wheel for fingertip control, giving you the power to select the gear ratio of the Lineartronic that best suits your driving situation. They also provide a six-step manual mode for quick response on demand. The result is a sharper and sportier driving experience.
Rear Seat Armrest with Cup Holders
Enjoy front-row comfort in the second row with the rear seat armrest, which folds down for extra comfort.
Sport Gauges with LCD Display
Vital driving information is only a glance away with these crisp, easy-to-read gauges. The easy-to-see white illumination and red needles perform a full sweep to get you ready for the drive. A 3.5-inch LCD display located in the centre of the array can be customised to put the information you desire right in your direct field of view.
* Photo: WRX STI model
Multifunction Display
The wider and high-resolution 5.9-inch Multifunction Display is easier to read and shows you a variety of key vehicle information to enhance connection with your vehicle. It also works as a display for the Front View Monitor to help you avoid accidents at intersections and help you park when facing a wall.
Apple CarPlay*1            and Android Auto™*2
Use today's most popular apps with Apple CarPlay*1 and Android Auto*2. Voice recognition capabilities allow hands-free use, keeping everybody safe while reducing distractions when you're on the road.
Rear View Camera
When the driver shifts into Reverse, the camera displays a live colour image on the in-dash display, along with guidelines to assist in parking manoeuvres.
Front View Monitor
The front grille camera projects the vehicle's front view via the Multifunction Display, increasing front visibility at intersections and when parking facing a wall.
* View the conditions
*1 Apple CarPlay is a trademark of Apple Inc., registered in the U.S. and other countries.
*2 Android™ and Android Auto™ are trademarks of Google Inc.