Rewarding to Drive.
Rewarding to look at.
Few other cars drive with the self-assured confidence of the Outback, so you won't be surprised by how uniquely it is accomplished. The horizontally opposed configuration of the SUBARU BOXER engine places the pistons 180 degrees apart, for a lower, flatter profile than
other engine types. This gives the engine, and therefore the overall vehicle, a lower centre of gravity and better sense of balance. Further, the pistons' opposing movements inherently counteract each other, naturally helping to reduce vibration.
2.5-LITRE DOHC SUBARU BOXER
Max output

129 kW (175 PS) / 5.800 rpm

Max torque

235 Nm (24.0 kgfm) / 4,000 rpm

Fuel consumption*

7.3 lit. / 100 km

CO2

 

emissions*

166 g/km
3.6-LITRE DOHC SUBARU BOXER
Max output

191 kW (260 PS) /6,000 rpm

Max torque

350 Nm (35.7 kgfm) / 4,400 rpm

Fuel consumption*

9.9 lit. / 100 km

CO2

 

emissions*

230 g/km
The Conditions.
          * Fuel consumption and CO2 emissions: According to EC 715/2007 – 2017/1151.
Increased Stability
Because the engine block has a flatter profile and sits lower in the chassis, the overall vehicle is more stably balanced and resistant to side-to-side motion than other designs.
Long-Lasting Performance
The engine's flat design is inherently rigid and self-balancing to achieve durability and reliable performance, generating less vibration than V-type or 4-cylinder in-line engines in the same class.
SYMMETRICAL ALL-WHEEL DRIVE
Control leads to confidence, and stability creates an agility that excites in the Outback. Subaru vehicles are gifted at inspiring confidence behind the wheel, thanks to the inherently stable design of Symmetrical AWD paired with the uniquely balanced SUBARU BOXER engine. This system delivers power to all four wheels at all times for enhanced control on all roads and in poor conditions.
It has excellent side-to-side balance and handling precision, thanks to its main components being aligned longitudinally, whilst its low centre of gravity creates an especially engaging and responsive drive. The unique advantages of Symmetrical AWD make for exceptionally rewarding handling and empower you to better avoid danger.
Lineartronic
Designed to get the most out of your SUBARU BOXER engine and Symmetrical AWD, the efficient Lineartronic Continuously Variable Transmission keeps the engine in its ideal power range to give the Outback its improved fuel consumption. Shift controls keep the ride light, smooth and responsive on the 2.5i engine. The shift controls have a stepped variable control that stays in tune with changes in vehicle speed and engine speed, allowing the driver to feel shift points when accelerating to form a strong and comfortable connection between car and driver.
Paddle Shifters
For a more engaging experience, drivers can use the paddle shifters to enjoy the delight of sports driving.
X-MODE helps to give you reliable control with a push of a button. The technology of X-Mode takes command of the engine, transmission, Symmetrical AWD, brakes, and other components to safely navigate, brakes, and other components to
safely navigate through challenging road conditions and varying terrain. When X-Mode is activated, Hill Descent Control automatically helps to maintain a constant speed when the Outback is travelling downhill.
Based on your driving style, Subaru Intelligent Drive (SI-DRIVE) can adjust the throttle and shifting response to give you immediate power and agility when you crave it in nearly any scenario.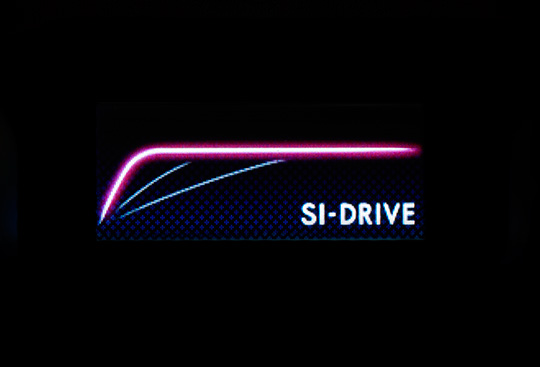 Sport Mode
This highly responsive mode is well suited for all-round conditions with its immediate acceleration. It puts the enjoyment back into high-speed driving on motorways or on winding roads.
Intelligent Mode
Offering gentle power delivery, this mode is ideal for cruising around town on local streets, covering long distances, or achieving high fuel efficiency. It also provides flexible control in the rain or on snowy roads.
Sport Sharp Mode
When you want powerful engine performance, select Sport Sharp Mode for quick acceleration and sharp response. Use the paddle shifters and take even more control.
To enjoy sporty driving, this mode unleashes the engine's maximum potential.
Available only on 3.6R-S.