Origin of the SUBARU Name and Logo.
"SUBARU" is Japanese for the Pleiades star cluster in the constellation Taurus. These stars are also known as "six-star group." The name reflects the fact that Fuji Heavy Industries was formed from capital contributions from five companies that sprang from Nakajima Aircraft.
Subaru started as an aircraft research company named Fuji Heavy Industries in 1915, however they would soon reorganize to become the chief aircraft manufacturer for Japan during World War II. After the war effort, the company pivoted towards car manufacturing, thus creating the Subaru brand.
From 1954 to 2008, the company designed and manufactured dozens of vehicles including the P1 (1954), the tiny air-cooled 360 (1958), the Sambar (1961), the 1000 (1965), the R2 (1969), the ), the Domingo (1983), the Alcyone (1985), the Legacy (1989), the Impreza (1993), the Sambar EV electric van (1995), the Forester (1997), the Tribeca (2005), and so on.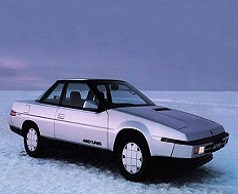 Subaru Sambar EV Electric Van (1995)
From the 1990s onwards, Subaru began to expand worldwide, while also expanding its range of vehicles – the Subaru Outback made waves in the 1990s as a capable and more efficient alternative to large, truck-based SUVs. They also invested in technology – early in the 2000s Subaru vehicles made great advancements in safety, and the company introduced a horizontally opposed diesel engine that became widely used.
Subaru's cars have a reputation as premium reliable vehicles, with excellent safety features and impressive technology, like the Boxer engine and the Symmetrical All-Wheel Drive System.