The SUBARU BOXER engine powers the SUBARU BRZ to new heights of precision and excitement. We've placed this 2.0-litre engine lower, made it more compact and moved it closer to the driver.
It's the first engine of its kind to feature direct and port fuel injection technology, which enhances both its responsiveness and fuel efficiency. It's a one-of-akind design that offers a new kind of satisfaction.
2.0-Litre DOHC SUBARU BOXER
Max output                              

147 kW (200 PS) / 7,000 rpm

Max torque          

205 Nm (20.9 kgfm) / 6,400 – 6,600 rpm
The lightweight body and rigid chassis of the SUBARU BRZ work together for a sleek and comfortable ride without disappointing the sporty driver inside. The overall chassis was strengthened without sacrificing its sporty suspension for better steering responsiveness and stability while also improving comfort. The sports car-like weight distribution over the front and rear axles also promotes better balance and manoeuvrability for a truly sleek and sporty driving experience.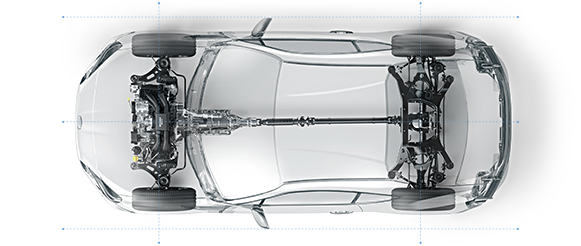 Using air to our advantage
A low centre of gravity keeps drivers closer to what matters: the tarmac. The SUBARU BRZ uses its low-profile, high-output SUBARU BOXER engine to help concentrate its mass to a point just 460 mm* above the ground. The result—sublime, predictable handling that bestows confident enjoyment upon drivers of all skill levels.
The aluminium-alloy spoiler gives the SUBARU BRZ a more stylish, aggressive presence on the road as well as enhanced aerodynamic performance. Its shape helps direct airflow for more efficiency and also increases downforce for more control and stability at speed.
* Measurement varies depending on model and is in accordance with standard measurement of SUBARU CORPORATION.
From conception, the SUBARU BRZ was engineered as a symbol of sports car purity. Uniquely low and compact, the reliable SUBARU BOXER engine was chosen as the foundation upon which this sports car would be
built—one with responsive steering, light weight, and an enjoyable driving character.
Laid out symmetrically, the SUBARU BOXER engine puts the crankshaft perfectly in line with the driveshaft for tremendous stability and dynamic agility. And the rear-wheel drive configuration allowed us to move the engine farther back and gives you precise control over your cornering
attitude. We combined this agile platform with a newly designed quick-ratio steering system that's tuned to react with astounding precision and immediacy to your input.
A sophisticated tuning of the fully independent suspension brings out every bit of agility and responsiveness the SUBARU BRZ has to offer. MacPherson-type front struts increase rigidity and a feeling of direct control by allowing the SUBARU BOXER engine to be placed even lower in the chassis. A double-wishbone design in the rear increases tyre grip off turns. All of this results in a SUBARU BRZ with improved ride comfort while maintaining driving stability.
Exhilarating precision in every corner—that's what sets a SUBARU BRZ apart. An advanced Torsen limited-slip differential helps you stay on your line during a high-speed turn while enhancing your comfort and control on tracks.
* Torsen is a registered trademark of JTEKT Corporation.